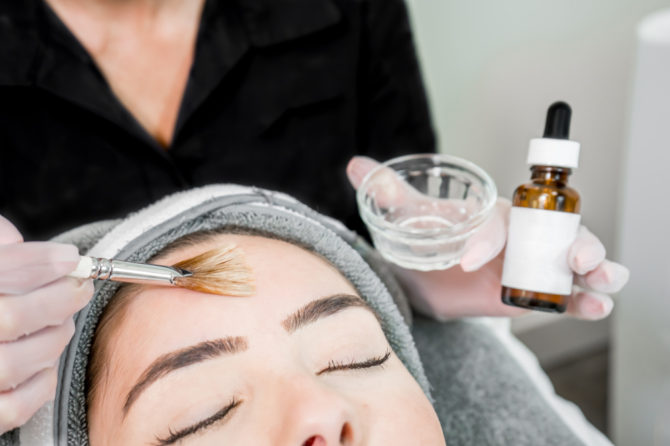 Chemical peeling is a technique that has been used throughout time, up to the days of the Pharaohs, to remove the surface layer of the skin, because of its benefits in terms of enhancing the radiance of the face and treating many skin problems. So, the craving for this technique is great, but the results are not always satisfactory! How many times have we heard about people who have tried chemical peels and did not actually benefit or had a bad experience due to the misuse of peeling materials. Therefore, in this topic, we will reveal to you the special method used by the dermatologist and cosmetologist, Dr. Yassine at his Skin Expert Clinic in Beirut, Lebanon. His method and the steps he follows have proven success, turning the clinic into a destination for any great chemical peel experience seeker.
Dr. Yassine excels in therapeutic and cosmetic chemical peeling!
Chemical peeling requires advanced experience and high skill from the dermatologist and cosmetologist, and this is what Dr. Yassine excels at, since the used acids vary according to the degree of exfoliation required (superficial, medium, and deep), and it is necessary to apply the appropriate acid and the right combinations to ensure visible and noticeable results!
Among the most common types of acids in this area are alpha hydroxy acids (AHA) such as glycolic acid and beta hydroxy acids (BHA) such as salicylic acid. What you should know is that alpha hydroxy acids help in achieving superficial to medium exfoliation of the skin, often with the aim at enhancing the radiance of the skin and restoring freshness to it. But there are stronger acids used to treat more difficult skin problems.
For medium to deep peeling, TCA Peel is used, which is based on Trichloroacetic Acid that requires accurate determination of acid concentration and pH levels.
As for achieving a deep therapeutic peeling, Dr. Yassine at Skin Expert Clinic in Beirut seeks a peeling technique that combines TCA Peel and Phenol, and this requires a high degree of professionalism to use such strong substances on the skin. The results are undoubtedly magical from a therapeutic and cosmetic point of view!
Authentic cases of successful chemical peels at Skin Expert Clinic
Skin Expert Clinic (Beirut, Lebanon) has become a pathway for solving dermatological problems, and chemical peels are among the techniques used by Dr. Yassine to treat many cases. With the peel technique, you can say goodbye to skin pigmentation! Not only that, but it is possible to get rid of melasma, tans and burns resulting from laser sessions.
The good news for everyone who suffers from acne, Dr. Yassine treats the pigmentation caused by this skin problem using chemical peels, and the results are impressive! You will personally notice how the skin pigmentation gradually disappears and the skin color becomes uniform, in addition to gaining a wonderful radiance at the same time.
What are the steps of Skin Care Clinic for chemical peeling?
Why are so many negatively affected by chemical peeling? Simply because this treatment maybe was not carried out in a professional clinic and under the supervision of a specialist doctor. Dr. Yassine makes sure to follow several steps before starting with the peeling procedure, to ensure that the appropriate concentration level is used and to prevent any negative skin reactions.
– First, examining the skin to determine its type (oily, normal, mixed, sensitive) and any problems you suffer from. Oily skin, for example, can be subjected to strong chemical peeling, while sensitive skin or suffering from rosacea or seborrheic eczema cannot be applied to this treatment. In this field, Dr. Yassine uses Skinscope LED from SkinCeuticals based on ultraviolet rays to detect any skin condition that cannot be seen with the naked eye.
Second, after determining the type of skin and its problems, it should be professionally cleaned.
Third, a toner is applied to the skin and its sensitivity is measured.
Fourth, a scrub is applied to remove dead cells.
Fifth, we get to the application of the chemical peel, which is chosen along with the level of its concentration according to the skin and its problems.
Sixth, after peeling, a mask suitable for the needs of the skin is applied (anti-wrinkle, skin lightening, anti-acne…)
As you can see, the steps are very well thought out and their goal is to provide impressive and safe results at the same time.
After the peeling session, it is for you to protect your skin by moisturizing it and applying sunscreen in case of exposure to the sun, especially during the first week following the session. It is normal for some redness and dryness to appear due to peeling, but it does not last more than a week.
Of course, the sessions must be attended according to the recommendations of Dr. Yassine, which usually ranges between 4 and 6 sessions, with one session per month, to achieve your desire for a vibrant and fresh skin free of impurities.
After reading all this information, you will no longer wonder about the difference in the results of chemical peels between one cosmetic center and another. You have now one answer: Success requires skill and professionalism! This is what you will find at Dr. Yassine's Skin Expert Clinic.
Leave a reply