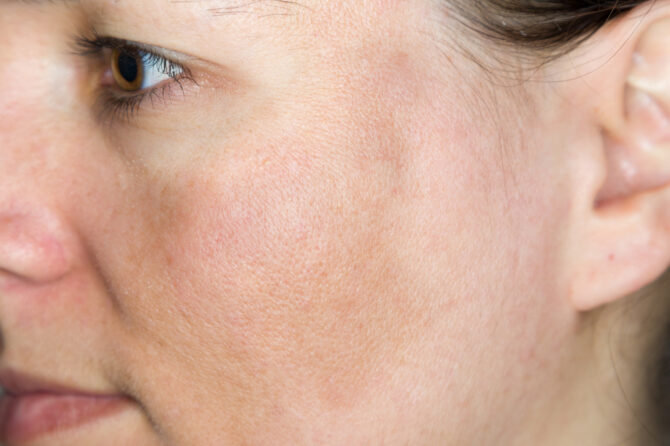 Skin pigmentation can be really annoying to you, so no matter how hard you try to hide it, it will leave a visible trace and negatively affect your appearance. So, there is no need to apply cosmetics to hide it anymore!
Effective treatments are found in Skin Expert Clinic (Beirut, Lebanon), where the dermatologist and cosmetologist, Dr. Yassine, examines your skin to determine the right treatment assets for you. In the following, we will reveal to you the diversity of treatments at Dr. Yassine's clinic, which assures you that every problem has its solution.
Available treatments for each type of pigmentation at Skin Expert Clinic
There are different types of skin pigmentation, they vary depending on the skin type, the problems you are suffering from, and the ones you have inherited genetically.
Melasma: It is a brown pigmentation on the nose, forehead, cheeks, and chin. If you suffer from this problem, the specialist in dermatology and cosmetology, Dr. Yassine, will prescribe peeling and whitening creams for you to use at home, in addition to conducting peeling sessions at his Skin Expert Clinic (Beirut, Lebanon). As for advanced cases, he will directly guide you towards lasers, specifically Pico Laser.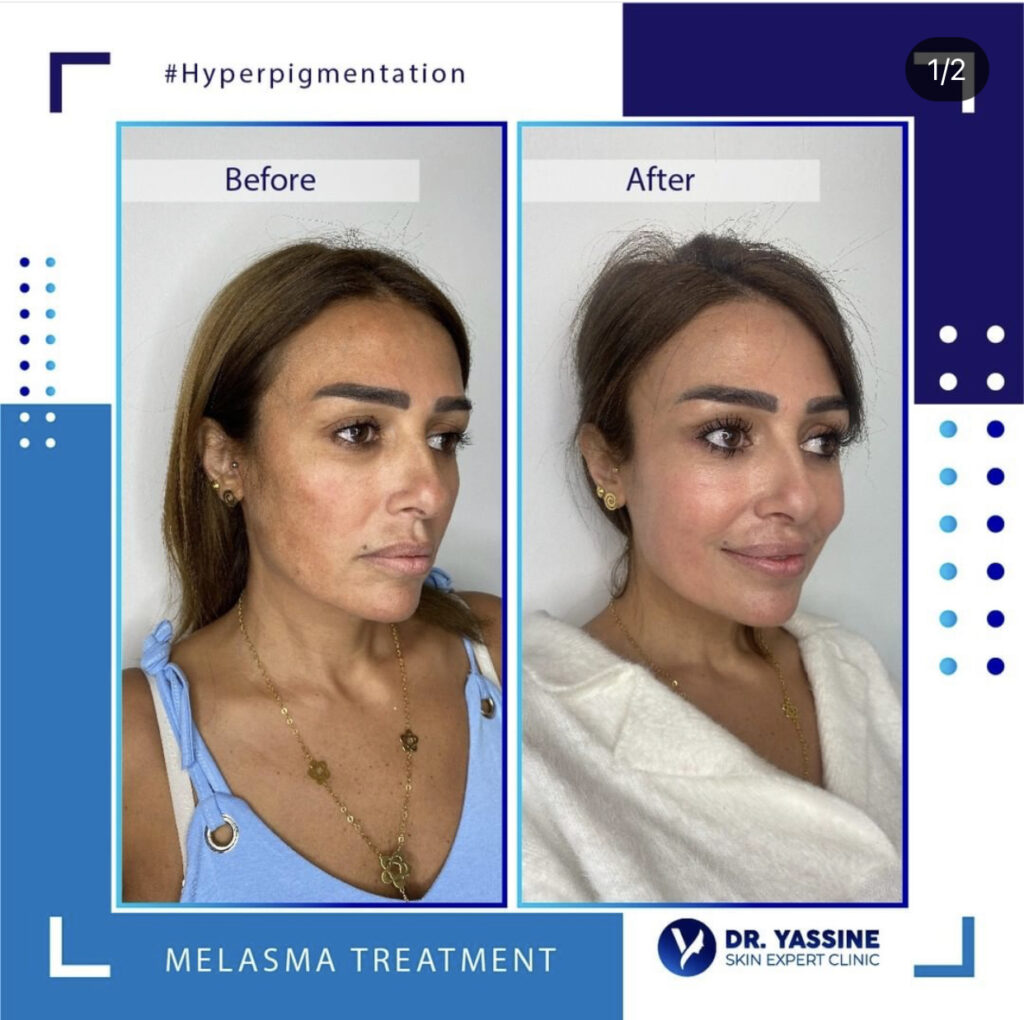 Freckles and skin spots (Lentigos): the freckles, softly being on the face are considered an aesthetic feature, but when they multiply and become darker as per their color, it will undoubtedly turn into a source of inconvenience to you. The same applies to skin spots, whether caused by aging or due to exposure to the sun, or those genetic. These spots in addition to freckles are treated by Dr. Yassine who uses IPL technology or what is known as intense pulsed light, or he might resort to a specific type of laser, which is Q-Switched Nd: Yag, which is intended for these cases. And often one to three sessions are needed to complete the treatment.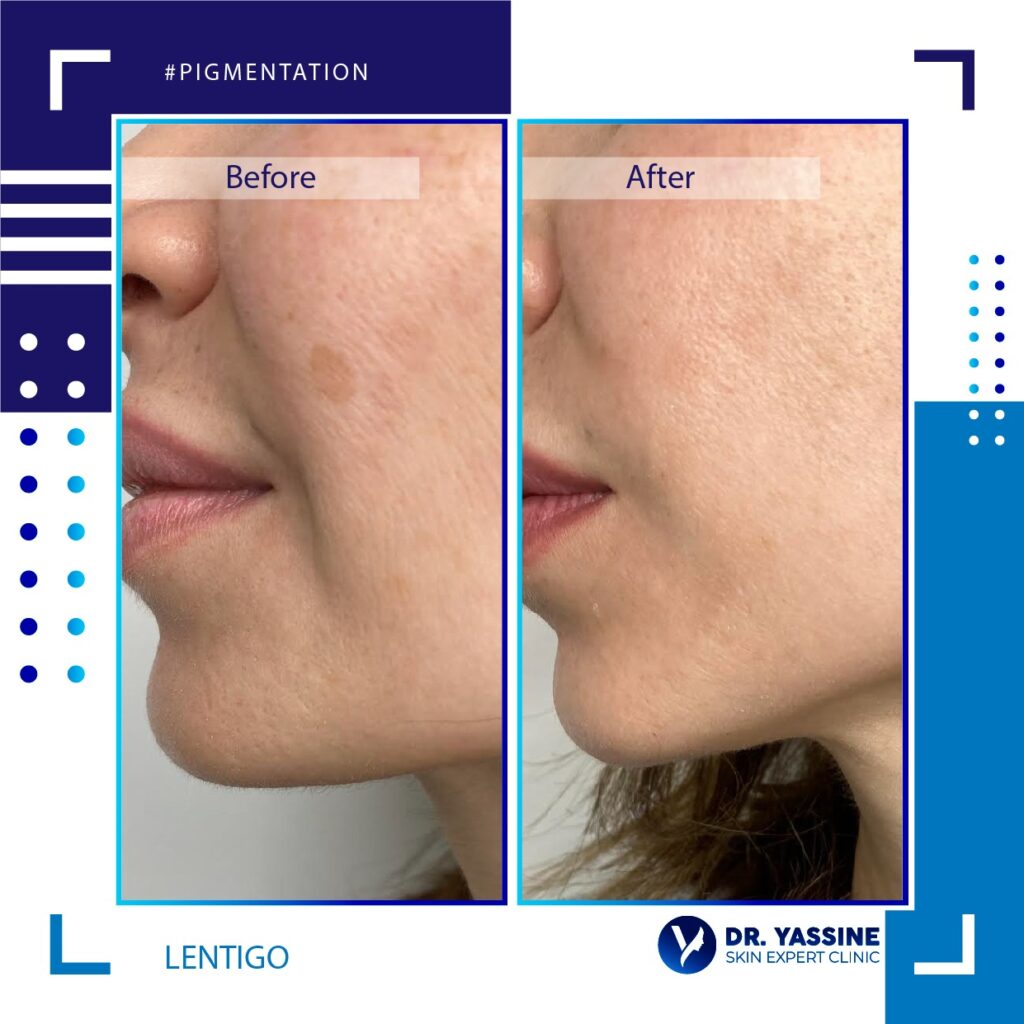 Moles (Nevus): Moles are surgically removed at Skin Expert Clinic, and a biopsy is done if it is suspected that the mole may turn into a cancerous tumor after examining it with dermoscopy.
As for other types of pigmentation, such as blemishes post-acne (hyperpigmented spots), Dr. Yassine uses chemical peeling or lasers to treat these conditions.
How can we unify skin color?
In addition to pigmentation, uneven skin color can be inconvenient to many. How can we face this condition? The solution is also available at Skin Expert Clinic (Beirut, Lebanon), where Dr. Yassine examines the skin (type and problems) to determine the appropriate treatment.
What distinguishes Dr. Yassine is his incorporating techniques for impressive results such as resurfacing lasers, microneedling, skin boosters, and exfoliation. This integration makes the treatment more effective so that you can achieve the appearance you desire as quickly as possible.
So, what are you waiting to visit Skin Expert Clinic if you have any type of pigmentation or uneven skin tone? The treatments are there, and all you have to do is to take the first step to book an appointment.
Leave a reply